SHINYGEL 16W LED Lamp
Item Code shinygel-led16w_
Price shown after sign in
The black circle part on top of the body is not a touch screen, and the buttons work only when they are pushed strongly enough.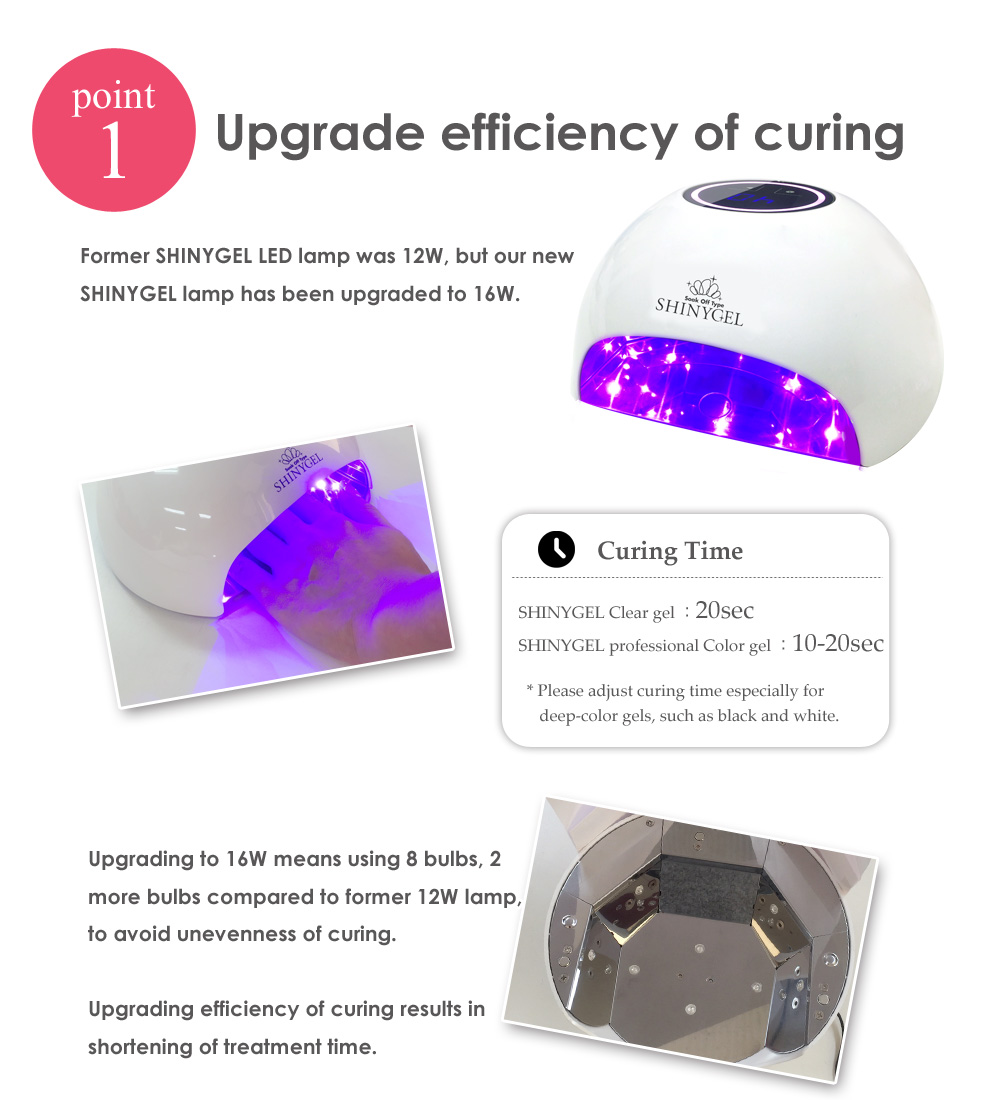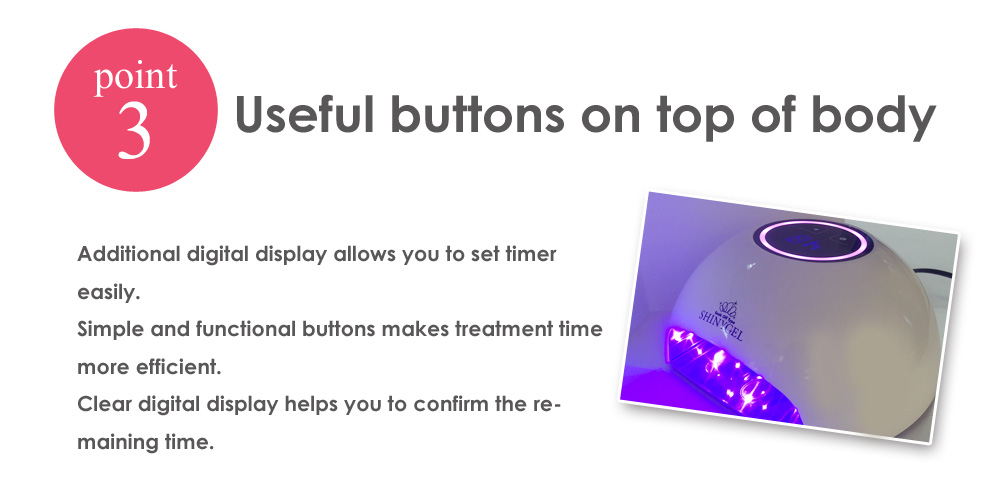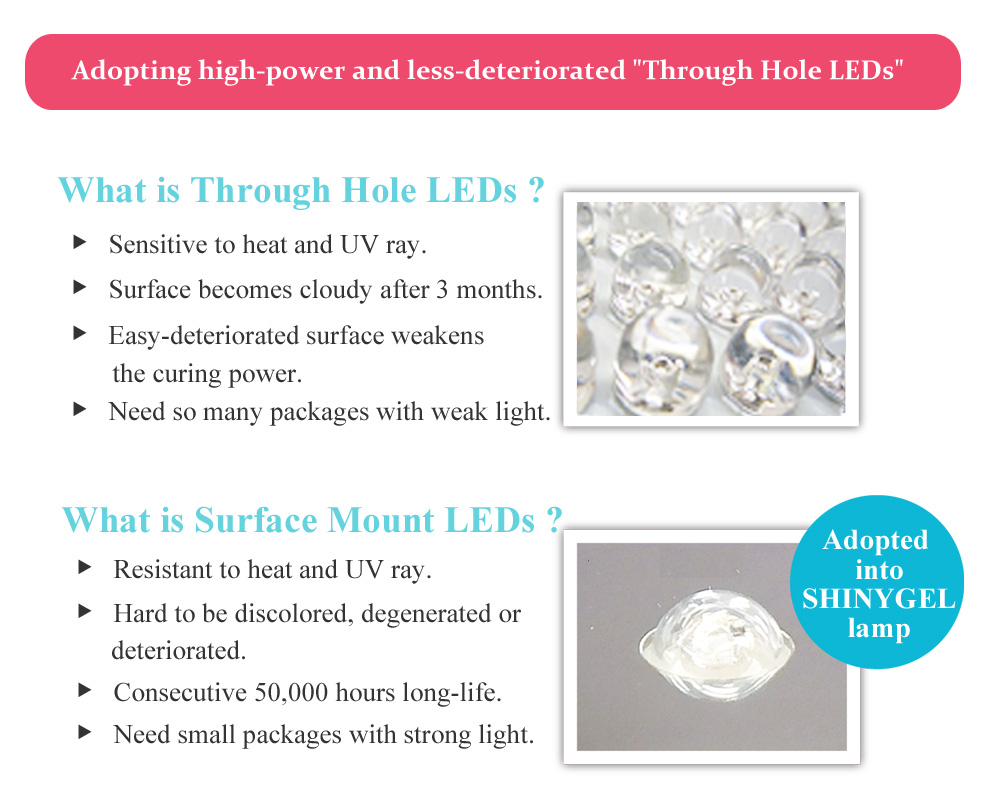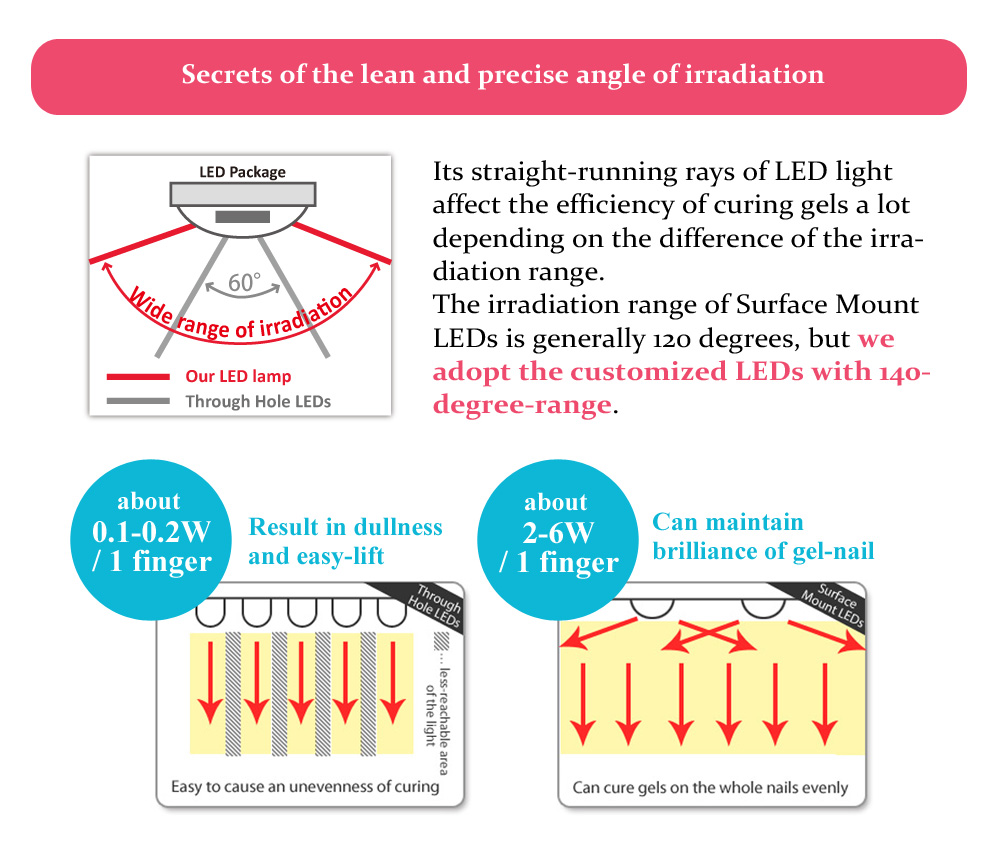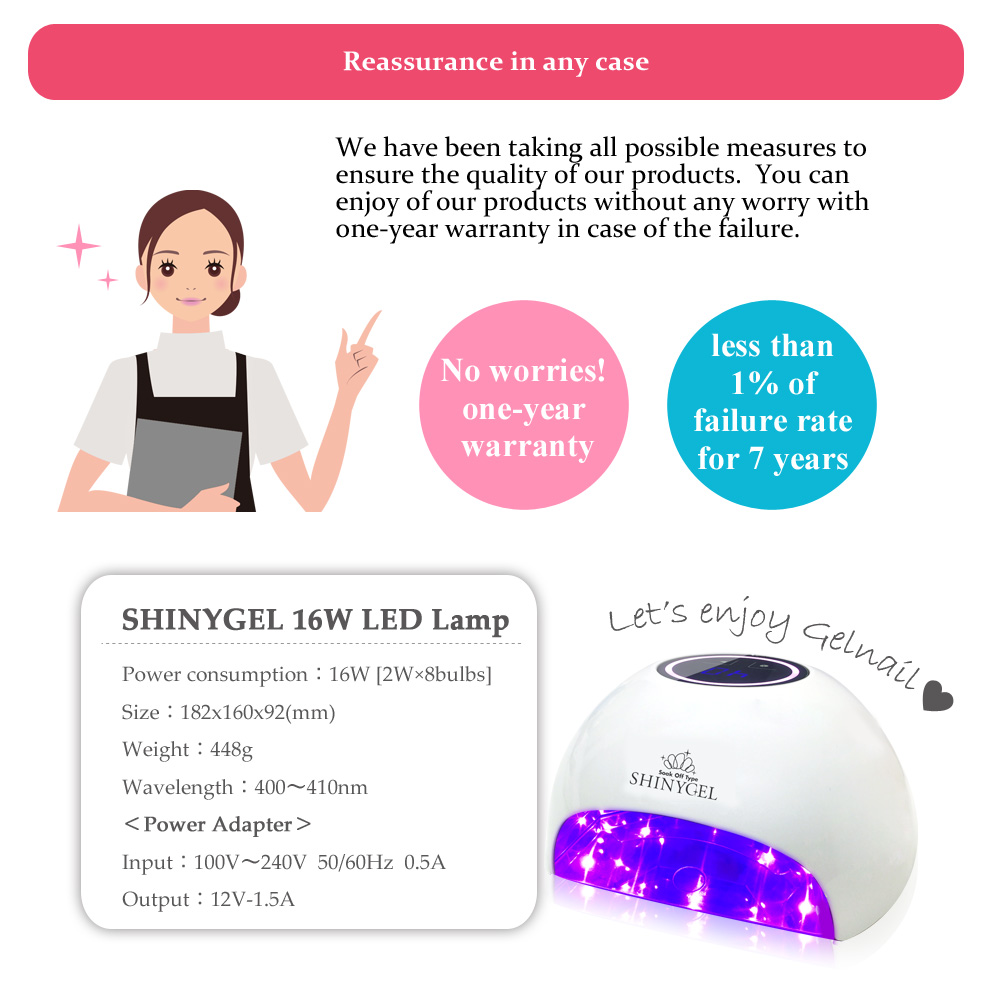 Please be sure to read the followings about the important matter of
handling LED products.
Gels which can be cured by LED.
LED light is a visible ray the same as rays of the sun or fluorescent light, and there is a possibility for our gel to be cured by the ray of fluorescent light.
Therefore, please make sure to close the lid of the gel frequently during treatment and to clean up the brush well after the treatment for avoiding the gel and the brush from getting hard.
Keep it in a dark place when not in use.
Please note that the hardened products after using can not be turned back to normal
.
Please note that we can not accept any returns or exchange for hardened products due to customer error
.
LED lamp
The wavelength of our LED lamp is 400 - 410 nm.
Please note that we make no guarantees whatsoever regarding curing gels from other manufacturers with our LED lamp.
Please note that
we can not accept any returns or exchange of our LED lamp after using
for the reason that the gel from other manufacturers can not be cured with it.
Product description

* Gels in SHINYGEL series shipped out before Nov 1st, 2012 are only cured by UV lamp, not by LED lamp.
Please make sure to check it before use.


* Please remove the protection sheet of the reflection plate before use.

Our LED lamp adopted latest high quality Surface Mount LEDs chosen by the professional brands.
Surface Mount LEDs have power more than 35 times compared to Through Hole LEDs, which have been adopted to most comparatively cheaper LED lamps, so as to solve the problems such as imperfect curing.

Through Hole LEDs are not suited for curing gels because of their straight-running rays and their tendency to be deteriorated by UV rays and to be decreased their power after using for consecutive 512 hours.
In contrast, Surface Mount LEDs are using silicone resin resistant to heat and UV rays to avoid being deteriorated, and have enough power and diffusing ray of light suitable for curing gels.
It is a 50,000 hours long-life LED lamp without the replacement of the bulbs.

This is our new SHINYGEL 16w LED lamp with 8 bulbs in the compact body to avoid unevenness of curing. More efficient curing allows you to shorten the treatment time.
More variety of timer setting, 6 options, 5, 10, 20, 30, 45, and 60 sec, are useful to cure more variety of nail gel from various manufacturers. Clear digital display helps you to confirm the remaining time as well.

This is a functional and useful LED Lamp.

Wavelength

405 (±5) nm

Curing time

* This is a guide for the curing time of our SHINYGEL. Please contact the manufacturers directory if you use a gel from other manufacturers.
◇ Temporary curing: 10 seconds
◇ Permanent curing: 20 seconds

-Color gels : 10 seconds for 1st layer / 20 seconds for 2nd layer
-Dark color gels : 20 seconds for each 1st and 2nd layer

Note

-Do not use for more than 30 mins continuously.
-Do not touch LED bulbs directly, or do not clean them with solvent cleaner. May cause a malfunction.
-Do not look at the LED bulb directly during the treatment. May cause damage to your eyes.
- Using outside Japan is not guaranteed.
Also, we accept no responsibility for the malfunction when using outside Japan.

* Please make sure to keep the warranty certificate attached to the manual after purchasing.

Color

Pearl White

Power consumption

16 W

Body size

W182 x D160 x H92 (mm)

Weight

448 g

Voltage

100 ~ 240V 50/60-Hz

Country of origin

Taiwan

☆ One-year warranty!